(Photo by Win McNamee/Getty Images)
April 11, 20234:38 PM ET
Republican presidential candidate Vivek Ramaswamy released his own branded beer koozies after Bud Light drew backlash for partnering with transgender TikTok influencer Dylan Mulvaney.
Mulvaney, a biological male who identifies as a woman, became a Bud Light brand ambassador and received a personalized beer can to celebrate the TikTok star's "365 days of girlhood" in early April. Bud Light parent company Anheuser-Busch doubled down on the partnership, claiming that it was part of a strategy to reach consumers from "various demographics and passion points."
Ramaswamy trolled the beer company with koozies featuring the words "Bud Right" in same font Bud Light uses. The koozies also includes Ramaswamy's picture — in the same art style Bud Light used for its Mulvaney can — and the tagline "Truth Over Relativism."
"Get Bud Right: there are *two* genders. Men are men & women are women. Don't apologize for the truth. Ditch your next @budlight 24-pack. Donate the cost and get His & Her exclusive campaign koozies," the candidate tweeted.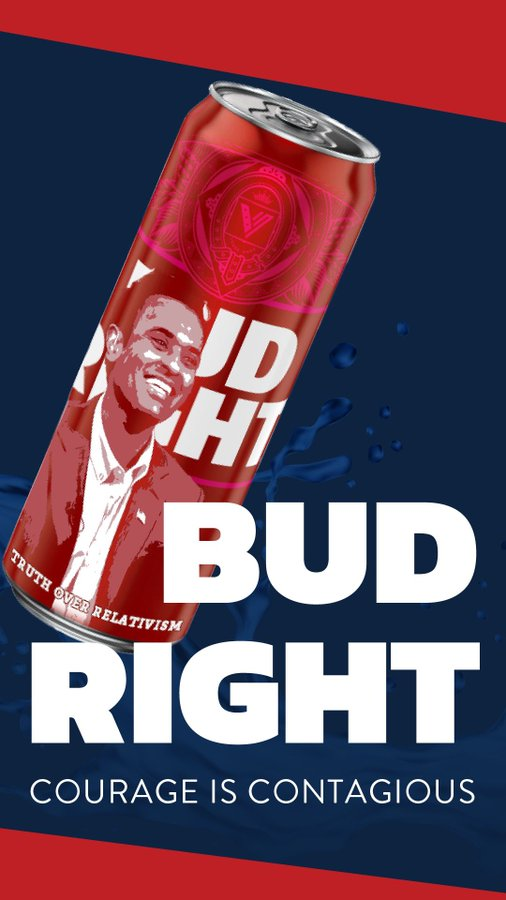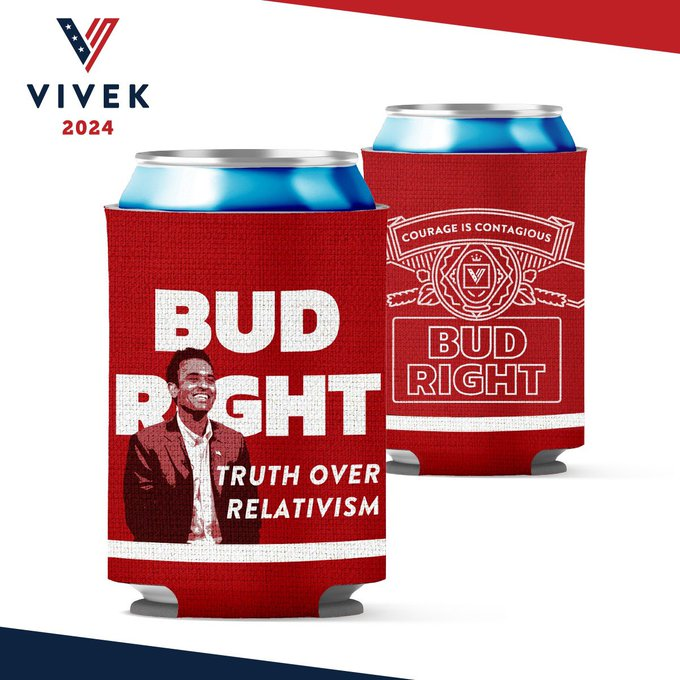 Ramaswamy told the Daily Caller that Bud Light is isolating its customers by attempting to virtue signal with the Mulvaney partnership. He also called on society to stop perpetuating "gender confusion." (RELATED: 'F*ck You': Kid Rock Blows Away Bud Light In The Most American Way Possible) 
"For a drink that was once a blue collar staple of middle America, this isn't a winning sales strategy. It's a way for the CEO to signal his virtue while alienating a customer base that is too afraid to say so out loud," Ramaswamy told the Caller. "Let's abandon the farce that the 'humane' thing to do is to affirm gender confusion, rather than to actually help those who suffer from it. That's what it means to crack a cold hard truth."
Bud Light has a long history of corporate wokeness. A recently resurfaced video shows Alissa Heinerscheid, Bud Light's vice president of digital marketing, discussing her attempts to make the brand more "inclusive" and calling previous ad campaigns "out of touch" and "fratty."
In 2019, Anheuser-Busch announced a "diversity & inclusion pillar" to require "unconscious bias training" and "attract diverse talent."
Conservatives have boycotted and publicly denounced Bud Light for partnering with Mulvaney. Musician Kid Rock and Newsmax host Carl Higbie have filmed themselves shooting Bud Light cans with guns.
Mulvaney has also promoted feminine products, including Tampax tampons and Nike sports bras.
Originally Published in the Daily Caller